Nankai University and the National Astronomical Observatories of the Chinese Academy of Sciences co-established the "Astronomical Education Practice Base"
2016.11.07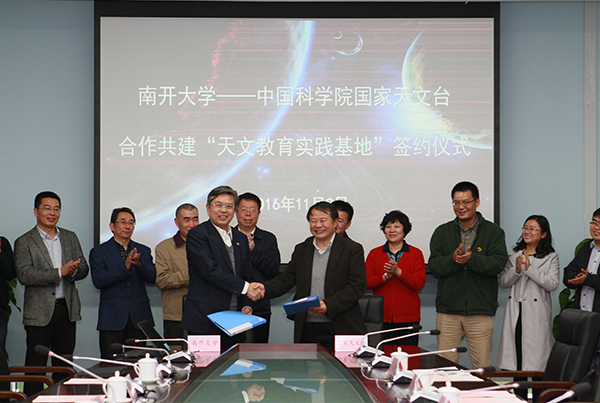 November 2nd, the signing ceremony of the "Astronomical Education Practice Base", co-established by Nankai University and the National Astronomical Observatories of the Chinese Academy of Sciences (NAOC), was held at Jinnan Campus' East Administration Building.
President Gong Ke stressed that NAOC has many advanced disciplines, special majors, and academic experiences. He hoped the two institutions would take the cooperation as an opportunity to develop mutual resources and platforms and strengthen exchanges and collaborations in scientific research and other areas.
Yan Jun, Director of NAOC, introduced the process of co-establishment of the project. He also said that NAOC values the cooperation with Nankai University: Nankai has rich academic resources, and its disciplinary structure is similar to NOAC's in many ways. He hoped that, through this cooperation, the two institutions will promote mutual understandings. He also welcomed Nankai's professors and students to research and study at NAOC.
During the ceremony, President Gong and Director Yan signed the Memorandum of Understanding on behalf of the institutions. The people in charge of NAOC introduced the general situation of the institution, and the responsible of Nankai University's Teaching Affairs Office explained the specific contents of the agreement.
Nankai University and NAOC will co-build an observatory or an observation station to further promote Astronomy among university students, realize the complementary advantages, share resources, and establish a long-term and sustainable partnership. They will also establish Astronomy courses or special workshops, promote the construction of an astronomical culture inside the campus, develop student joint cultivation projects, and so on. NAOC's plate "NAOC Astronomical Education Practice Base" is now hung at Nankai University, and Nankai University's plate "Nankai University Astronomical Education Practice Base" can be found at NAOC's Xinglong Observatory.