Nankai University's Students won the Gold Medal at iGem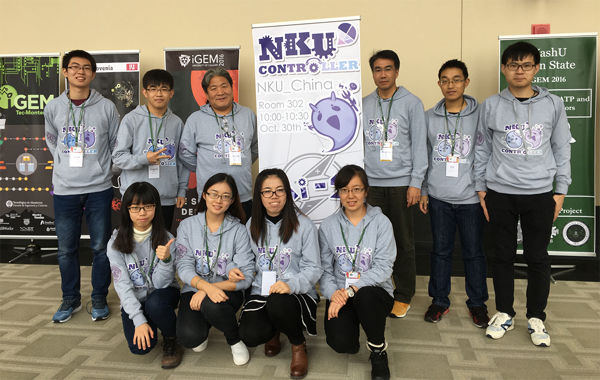 October 31st, the "International Genetically Engineered Machine Competition" (iGem) was held at Boston's Hynes Convention Center. The Team of Nankai University, after competing with 300 international teams, won the gold medal.
The iGEM, initially sponsored by MIT, was firstly held in 2003. It is a top international competition for students interested in Synthetic Biology. Nankai University's iGEM Team was founded in 2014 and won the first bronze medal in 2015.
This year, Nankai University's iGEM Team included 24 undergraduates. In six months, the team completed all the tasks: they established an experimental subject, constructed a website, Human Practice, made posters and a presentation, organized the team, and so on. Prof. Song Cunjiang and Prof. Qiao Mingqiang, from the College of Life Sciences, and the Ph.D. students Quan Yufen and Dang Yulei led the team. The seven members who participated in the American competition are currently studying at Nankai University's Biology Boling Class.
The Team chose a special topic for the competition: "AI-2 Controllers". Autoinducer-2 (AI-2) is a language that bacteria use for intergenera signaling, and it is called "bacteria common language" by the scientists. Designing a "cell machinery", the team was able to regulate and control the AI-2 in the environment, and then control group behavior in bacteria. The team conducted a large amount of experiments in Molecular Biology and Microorganism, made a mathematical model, and finally regulated and controlled the bacterial biofilm. The members presented complete synthetic biological components to the Competition Committee using an ingenious way: they created a website and several academic posters to explain the results. They performed outstandingly during the defense.
The tutors of the group believe that, through the participation in the competition, Nankai's students are able to practice their passion for innovation and be inspired. The iGem competition also provides a new approach for the talent cultivation of Nankai University's Biology students.