Nankai University Attached Hospital founded the First MEEK Skin Grafting Center in Tianjin
Global-leading MEEK Skin Grafting Treatment available for Tianjin Patients
2016.12.14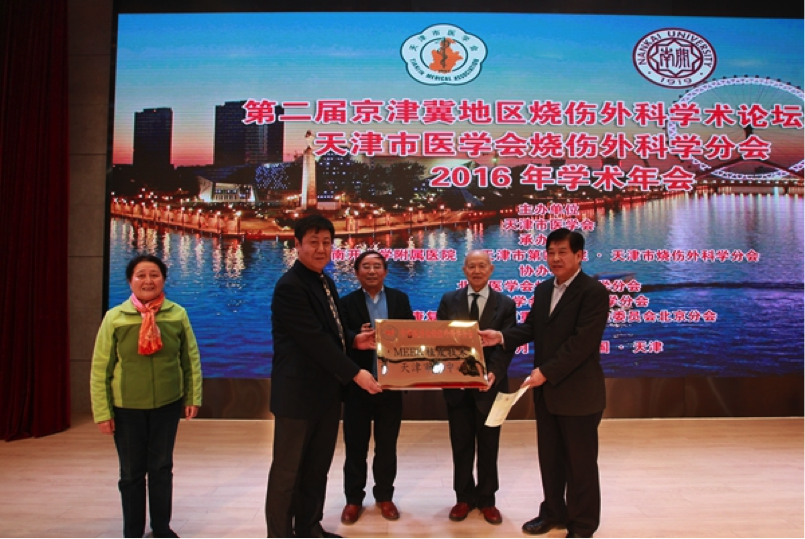 December 10th, the founding ceremony of "MEEK Skin Grafting Center - Tianjin Branch" was held at Nankai University's Jinnan Campus. The first MEEK Skin Grafting Center in Tianjin was founded by Nankai University Attached Hospital (formerly known as Tianjin Fourth Hospital). The global-leading advanced MEEK skin grafting treatment will be available in Tianjin for severely burned patients.
MEEK skin grafting technique is one of the most advanced skin grafting techniques in the world. It consists of the surgical removal of the damaged skin followed by skin grafting. It replaces the traditional artificial process of taking off and process the skin of the patients. This technique has a good effect in treating large area burns with the advantages of high survival rate of skin graft and short time of skin fusion. Moreover, patients recover faster and with fewer scars, and the cost of the treatment is lower. It is an ideal way to deal with big injuries, especially severe burns. This technique has been utilized in America and Europe for many years, and, now that the technique is available in China, many patients can benefit from its introduction and relieve the pain.
Nankai University Attached Hospital is specialized in burn and plastic surgery. It is a tertiary hospital that combines medical treatments, education, scientific research, and prevention. After many years of research, the Burned Care Unit of the hospital has developed a comprehensive treatment: first aid for burns, early treatments, plastic surgery, reconstruction, rehabilitation, and cosmetology. Prof. Shen Fanqiang, Director of Nankai University Attached Hospital, mentioned that, after the introduction of MEEK skin grafting technique, the hospital will double the efforts to build up a better Burn and Plastic Surgery Department to provide the patients with the most advanced skills and a high-quality service.